Class Schedules (Receive notification of holiday schedule changes by signing up for emails, see bottom of page)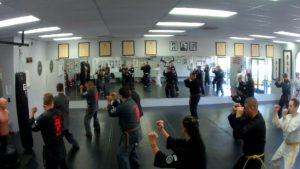 Monday 
11 am -12 pm          Yoga Pilates           All Levels
6 pm – 7 pm          Adult Kenpo          White-Green
7 pm – 8 pm          Adult Kenpo Technique Line   All Levels
8 pm – 9 pm          Adult Kenpo          Brown-Black
Tuesday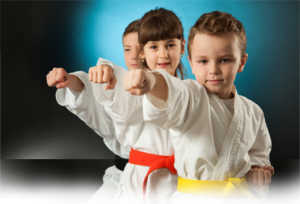 6 pm – 6:45 pm      Junior Kenpo            All Levels
6:50  – 7:20 pm      Little Dragons           Ages 4-6
6:45  – 7:45 pm       Adult Kenpo            All Levels
7:45 – 8:30 pm       Grappling                  All Levels
Wednesday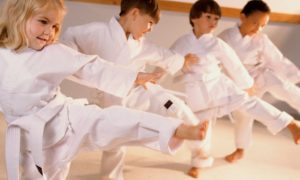 6 pm – 7 pm           Adult Kenpo            All Levels
7 pm – 8 pm           Kickboxing              All 16&Up
Thursday
6 pm – 6:45 pm      Junior Kenpo         All Levels
6:45  – 7:45 pm       Adult Kenpo           All Levels
8 pm – 9 pm            Adult Kenpo           Brown – Black
Saturday
9 am – 9:20 am      Little Dragons           Ages 4 – 6
9:20  – 10 am          Junior Kenpo            All Levels
10 am – 11 am        Adult Kenpo              All Levels
About Non-Kenpo Classes
Kickboxing
Kickboxing is a great sport that teaches maneuvers and techniques while at the same time conditioning the body and engaging the mind. Working with focus mitts, heavy bags and having friendly sparring with others challenges students on how to harness their skill and power. Our kickboxing class is based on Muay Tai style and welcomes all ages 16 and above.
Grappling 
Most of the techniques taught within our Grappling program are based on Judo and Brazilian Jiu-Jitsu which are variations of traditional Jujitsu. In Judo and Brazilian Jiu-Jitsu there are takedowns, self-defense techniques and striking but the core of the art mainly involves maintaining or defending ground positions, throws to immobilize opponents and submissions such as chokes, arm longs and leg/ankle locks. We train in a non-competitive environment so that the risk of injury is minimized. Also, students are first taught how to fall properly which helps to safely practice otherwise challenging throws. We welcome students 16 years and older.
Gentle Yoga – For a Healthy Spine 
Alignment-based Lynegar and Vinyoga. Through a series of yoga poses, we focus on improving flexibility, stretching and strengthening the spine, developing core strength, and improving posture and functional mobility. Everyone practices at their own level, and modifications are taught to overcome limitations.
**For Yoga & Pilates Classes – contact Miki Bousso at 408-249-3592 or email her at mikibuso@gmail.com
Special Deals:
30% off Kenpo Karate Group Class for first month – includes a gi (uniform), orientation session and unlimited attendance to level group and kickboxing classes.
Work out Cards Special:
Kids Cards:  $12 per card buy 10 cards and get 2 extras for free!
Adult Cards: $15 per card buy 10 cards and get 5 for free!
Additional discounts for family registrations!
This is the perfect gift  of exercise at any fitness level while at the same time  learning self–defense, de-stressing and having fun. Call 408-505-1067 or email me at scka@santaclarakenpoacademy.com for details.